Woodland Ridge Lodging
Woodland Ridge Lodging

13971 Stout Road

Logan, Ohio 43138

Phone: 740-385-1092

Web Site:

www.hockinghills.com/woodlandridge

Property Overview

Double Pine Lodge is a brand new lodge, built this season. A beautiful lodge, very secluded on scenic dead-end lane. 1.5 miles from Old Man's Cave in the Hocking Hills. The cabin sleeps 16.




Category: Hocking Hills Cabins
Accommodations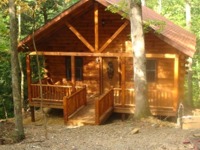 Grant's Escape
- Secluded Romantic getaway for that special someone. The perfect place for honeymooners and small families.
Maximum Occupancy: 4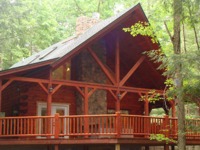 Double Pine Lodge
- A beautiful lodge, very secluded on scenic dead-end lane. 1 1/2 miles from Old Man's Cave in the Hocking Hills. The lodge sleeps 16, has 5 bedrooms and 3 queen size sleep sofas. Perfect for couples or families.
Maximum Occupancy: 16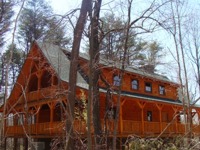 Timber Ridge Lodge
- The lodge sleeps 18 people with 4 private bedrooms with queen size log beds, and features a private 400 sq ft honeymoon/presidential suite in loft.
Maximum Occupancy: 18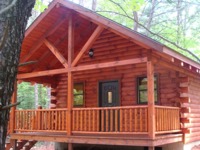 Destiny's Daydream
- A brand new couples cabin. Opening June 2010. Very secluded on dead end road. 1.5 miles from Old Man''s Cave
Maximum Occupancy: 2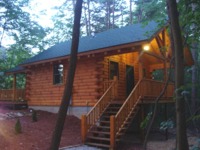 Whispering Pines
- A brand new couples cabin Just finished June 2010. 1.5 miles from Old Man''s Cave. Very secluded on dead end road.
Maximum Occupancy: 2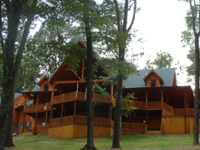 Majestic Oaks Lodge
- Brand new and one a kind in the Hocking Hills Over 9500 sq ft indoor living. Has a heated indoor pool Sleeps 44. Free Wi-Fi. Opening Oct 1, 2013
Maximum Occupancy: 44
Featured Amenites
(The most commonly requested Hocking Hills amenities are listed in bold)
•

Hot Tub


•

Wood Burning Fireplace


•

Big Screen TV


• DVD Player
•

Fire Ring


•

Air Conditioning


• Fishing On Site
• Swimming Lake/Pond On Site
•

Swimming Pool


• Pool Table
• High Speed Internet Access

• 1 Bedroom
• 5+ Bedrooms
•

King Bed


•

Queen Bed


• Bunk Bed
• Sofabed / Foldaway
• 1 Bath
• 2 1/2 Baths
• 3+ Baths
• 4+ Baths
• Charcoal Grill
•

Wedding Facilities



•

Suited for Children


•

Handicapped Accessible


• Iron / Ironing Board
•

No Smoking Inside


• Telephone
• Stereo System
•

Game Room



Visitor Reviews
Rating

2 out of 5

Valentines Weekend 2014

VDay

,

Cincinnati, OH, USA

Review Posted:

Mar 6

Date of Visit:

February

The cabin was very private situated on a dead-end road. There was 5" of fresh snow on the ground and the road was virtually inaccessible without a 4WD. No TV reception, phone service, or internet. Being cut-off actually made it a very cool experience. Our favorite thing was the awesome rock fireplace. Overall the cabin has lots of potential. Natural wood, great construction, and deck. The main CONS of the place was cleanliness. The cabin wasn't very well kept. The cookware was below par, well-water smelled like 'eggs'. It was fine for bathing but not for drinking. There was no gas grill as advertised (only a charcoal). There was no real decoration...basically, the place felt sorta like a hotel. Not very cozy or welcoming at all. The absolute WORSE thing was the hot tub. It was suppose to be filled with fresh water for each new guest. However, on the last day we were there we found a decomposed 7" long EARTHWORM IN THE HOT TUB. We were totally grossed out because we had been it all weekend.
Rating

3 out of 5

Nice cabin

Review Posted:

Dec 1

Date of Visit:

November

Pros: beautiful, fireplace, cozy Cons: not clean upon arrival, sulfur smell of water We stayed at Grant's Escape cabin over a weekend. The cabin was beautiful, with vaulted ceilings, a stone fireplace, and light wood in the interior. This cabin is the last cabin on the lane, so it's more secluded than the others. There is a road we could see and hear from the deck (although it's probably hidden by the trees during the warm weather months), but it was far enough away that it didn't bother us. We thought the cabin was cozy, and we enjoyed our stay.p The water has a strong sulfur smell, so we tried not to run the water for any longer than we had to. The biggest negative, and the reason I didn't rate the cabin higher than 3 stars, actually had nothing to do with the cabin itself. The cabin had not been cleaned when we checked in. Check-in time was 3PM, and we got there at 3:45. We didn't have cell service out there and there was no telephone in the cabin, so we had to drive to a spot with cell service so we could call the owner to ask about cleaning the cabin. A cleaning woman got to the cabin about 5:15 and cleaned until about 7. She was friendly and did a good job given the time she had to work with, but there were some things that didn't get cleaned, such as the hot tub, which the website says is drained and cleaned between guests. By the time we unloaded our car and got settled, it already was 7:30, almost 4 hours after our arrival time. I had read other reviews about this company before booking, and there were several reviews about cabins not been cleaned, so I think they have a problem in this area. Overall, I would recommend this cabin to others with the suggestion they call before arrival to verify the cabin has been cleaned.
Reviews are the subjective opinions of Hocking Hills visitors and not of HockingHills.com
Web Site:
www.hockinghills.com/woodlandridge